TIDY FOR AIRBNB AND RENTALS
In 90 seconds, TIDY can schedule your rental with a perfectly sized cleaning at an
affordable price.
THE BENEFITS OF TIDY FOR RENTALS
RELIABLE HOMEKEEPERS
We have strict reliability standards for all TIDY Homekeepers and the most advanced tools to ensure your appointments are kept.
EASY ONLINE BOOKING
Easily book online in seconds.
CUSTOMIZE THE CLEANING
Use the app to customize the To Do list to your rental, so that way the cleaners turnover the home the way you want, every time.
AFFORDABLE
Pick a cleaning that fits your budget.
ON-DEMAND, NEXT DAY SERVICE
Last minute booking? No problem. TIDY Homekeepers are available 7 days a week to get your rental ready for check in.
GUESTS PAY FOR COSTS
We use big data to match our pricing to cleaning fees charged by the best hosts near you. TIDY should be a pass through cost!
PROFESSIONAL CLEANERS

✓ Can be background checked using industry standards
✓ Are top performers with few applicants accepted
✓ Speak English
✓ Bring premium supplies and vacuum
✓ Must pass an TIDY certification
✓ Use green & non-toxic products
100% GUARANTEED
You can make sure that all cleaners are background checked and we have our Satisfaction Guarantee, to ensure the safety and quality for yourself and your team.
Learn more about our Satisfaction Guarantee.
SMART AND FREQUENT, OR DEEP AND THOROUGH... IT'S UP TO YOU
TURNOVER TIDY
1 or 2 Homekeepers, 1 Hour.

A short, cleaning for small rentals or quick, frequent cleans.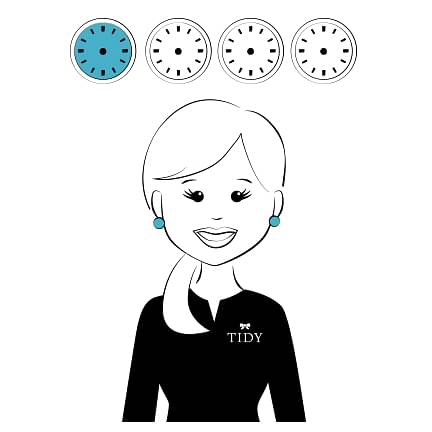 TURNOVER TIDY+
(MOST POPULAR)
1 or 2 Homekeepers, 2.5 Hours.

This cleaning is long enough for general cleanings of most homes, or deeper cleanings of very small homes.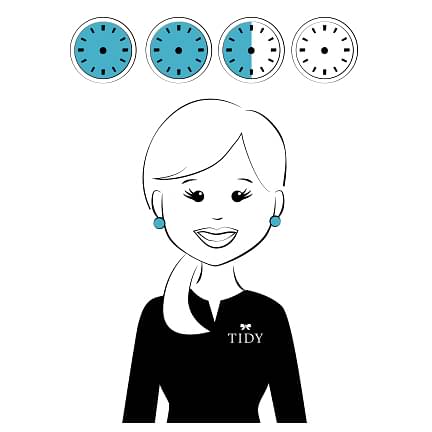 MIGHTY TIDY
1 or 2 Homekeepers, 4 Hours.

This cleaning is long enough for general cleanings of most homes, or deeper cleanings of very small homes.

A long cleaning with 2 Cleaners for larger rentals or a deep clean.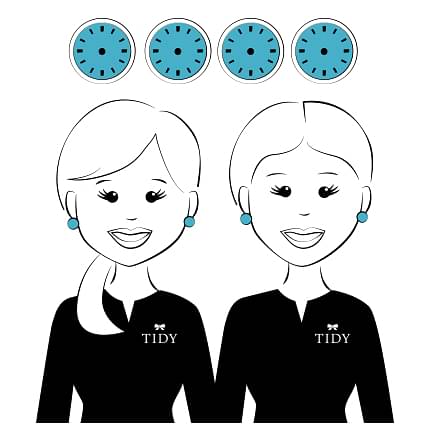 All cleanings are customized by you for the time you purchase.
Extra sheets/towels already clean?

Just let your TIDY Homekeeper know to change them out.

Need onsite laundry?
1 load can be completed with a TIDY+.
2 loads can be completed with a MIGHTY.
WHAT OTHER HOSTS SAY:
"
Using TIDY for my rental turnover was super convenient. I just set my to do list to match what needs to get done.
-- James L, Host in Los Angeles
"
When my Homekeeper got sick, TIDY automatically found a substitute. No work from me, it was great!
—- Martha P, Host in Dallas